I don't know what it is. When I had a myspace, a million years ago, I used to blog like CRAZY. Now I'm lucky to string 3 coherent sentences together. Maybe I'm getting old? It is 1 month and 2 days until my 29th birthday…
Tomorrow I will be eleven weeks pregnant!! Only two more weeks and I'm out of the first trimester!!
I visited my family in Las Vegas for a week because my husband was working 12+ hours for about six days in a row and I didn't want to be home alone that entire time. It was soooo good to see my parents and actually have quality time with them! I long for the day when we all live in the same city. Families are supposed to be together!
Since most of us think this baby is a boy, my mom bought him the CUTEST onesie EVER!!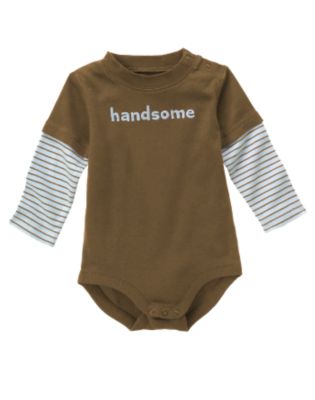 doesn't it make you die from cuteness??
Last night at Target, Brett and I saw a cute blue onesie with little owls on it and Brett decided to buy it! It is sooo cute and I LOVE owls.
Of course my mom and I both are keeping our receipts until November 13th when we find out the sex!
Morning sickness…it was gone for a week and a half but the last four days it has been back with a vengeance. I haven't actually thrown up, but my body's newest thing is to gag CONSTANTLY. I will think about certain foods or see certain foods and gag. I will smell something slightly gross and gag/heave. At times, my adam's apple will feel like it's growing and growing and then cause me to gag. It's crazy! I've also been super nauseated. But…I am SO THANKFUL for these feelings!! I am loving every single thing (no matter how big or small) that comes with pregnancy!! I'm just so deeply grateful to even be pregnant.
I'll post the weekly baby article tomorrow so you can see how big it's growing! :)